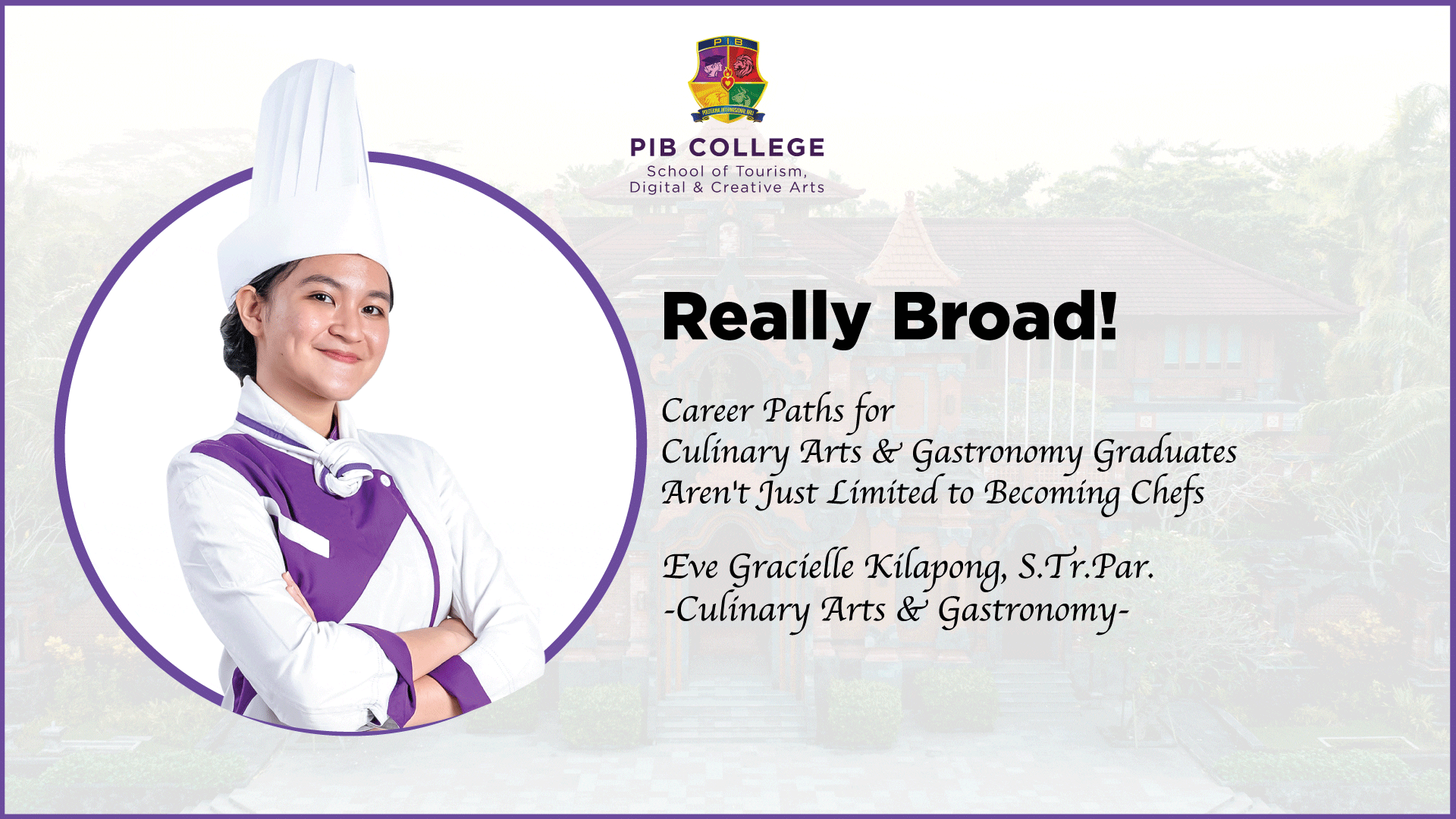 PIB College – Who says graduates of the Culinary Arts & Gastronomy Program can only become chefs or entrepreneurs? If you think that way, it means you haven't delved deeply into this field yet.
Eve, who is one of the alumni of PIB College's Culinary Arts & Gastronomy Program, will share a story about her university life, graduating, and building a career in a field related to her educational background. However, the profession she's pursuing now is neither that of a chef nor an entrepreneur.
Currently, Eve is working for a company in Indonesia that focuses on the Food & Beverage industry. She is responsible for providing solutions regarding product creation, product sales, and must understand the technical aspects of product processing and distribution.
Finding enjoyment in her current job, Eve has another mission she wants to pursue in her career. For Eve, career success can be achieved when she continually enhances her own capacity by learning constantly from her surroundings and from experiences, especially those gained from the educational and work environments.
The journey to her current position began when Eve decided to enroll in the Culinary Arts & Gastronomy Program. Learning the fundamentals of the culinary world with a composition of 30% theory and 70% practical experience, she then proceeded to enroll in the Business Incubator Program as a replacement for internship placement.
Wholeheartedly engaging in the business incubator, Eve achieved the top 3 position in the 2021 Young Entrepreneur category during the Business Pitching Day.
After graduating, Eve secured a good position in her career as a Technical Sales Representative for the Bali Area in one of the F&B companies in Bali, namely Embassy Chocolate. The journey is still long, but from this experience, Eve wants to convey that graduates of the Culinary Arts & Gastronomy Program don't have to exclusively be chefs or entrepreneurs. There are still numerous strategic positions in the industry that can be chosen as a career path. Moreover, with the increasing number of companies emerging in the F&B industry, career opportunities in this field are expanding even further.
For those of you who are in the process, Eve's advice is to always stay focused, enthusiastic, and never stop learning. If you ever feel confused along the way, PIB College is always there to assist you in your learning journey. Once again, congratulations on your journey!