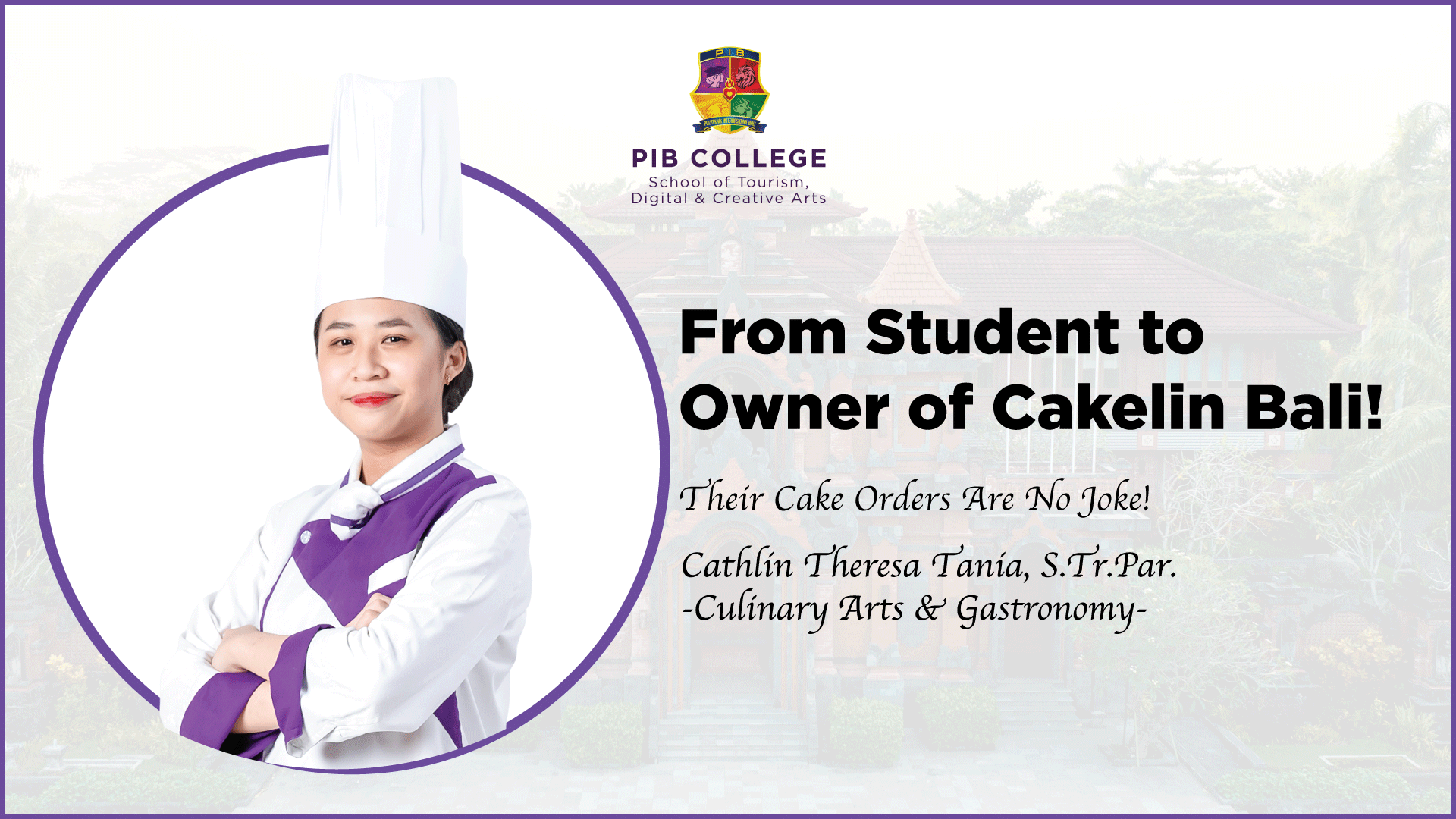 PIB College – Have you ever heard the terms "pastry" and "bakery"? These two terms are closely related to one of the study programs at PIB College, namely Culinary Arts & Gastronomy. Within this program, there are various courses that are relevant to the needs of the professional industry. One of the favorite courses is Western & Asian Pastry Bakery, just like what Cathlin studied.
Armed with the knowledge she learned and pursued, Cathlin has now successfully applied that experience in the working world by establishing and developing a business in the pastry bakery field.
Embarking on a Culinary Journey and Delving into Pastry Bakery
While still a student, Cathlin managed to build a business in the same field as her educational background. The culinary business had its own allure for Cathlin, even though she initially wanted to pursue a career as a professional in the culinary industry.
Cathlin's journey was certainly not easy. When deciding to delve into the field of pastry bakery, there were certain aspects that truly ignited her passion even further. Playing the roles of a chef and owner in her current venture, Cathlin revealed that with focused practice and consistent honing of skills, her efforts bore results in the form of continually improving product quality.
Developing the Business through PIB College's Business Incubator Program
Cathlin's business journey began during the Covid-19 pandemic. The Culinary Arts & Gastronomy classes that Cathlin attended were composed of around 70% practical classes that required face-to-face interaction.
When some courses had to temporarily shift to online learning, Cathlin, who was in the midst of her internship, faced a significant challenge in finding an appropriate internship placement. The internship program was supposed to be carried out twice, each lasting for six months.
While waiting for the next steps, Cathlin decided to deepen her skills in the bakery pastry field by regularly practicing making a product, which was a cake. Did she succeed immediately? The answer is no.
Despite several failed attempts at making the cake, Cathlin didn't give up. Eventually, after numerous tries, she found the right recipe and mixture for her product. Her initially homemade cakes were shared with her neighbors to gather testimonials about taste and appearance while simultaneously offering the cakes for orders.
Approaching Eid al-Fitr, Cathlin saw an opportunity and started accepting orders from her neighbors. In the beginning, there were various challenges, including her limited experience in order management and the lack of employees to assist in the production and distribution processes. However, Cathlin continued to play the roles of chef and owner in her budding business. Slowly but surely, she considered how to further expand her business.
PIB College's Business Incubator Program was the answer Cathlin chose. This program is part of the Culinary Arts & Gastronomy curriculum at PIB College, which made Cathlin more determined to continue running and developing her business. Through the Business Incubator Program, Cathlin even achieved the top 3 ranking in the 2021 Young Entrepreneur category during the Business Pitching Day.
Thanks to her dedication, orders for cakes and pastries at Cathlin's shop have been growing day by day. On regular days, she typically handles orders for wedding gifts with quantities of around 200 packs. However, the largest orders usually come during significant holidays like Eid al-Fitr and Christmas. There have even been instances when people ordered her products to be taken as souvenirs to other cities.
Delving into the Field of Culinary Arts & Gastronomy at PIB College
Now that the pandemic is over, career opportunities in the field of Culinary Arts & Gastronomy have widened. Many companies in the tourism, food & beverage, and hospitality industries have resumed operations and require professionals in the culinary and pastry bakery fields. New companies in the tourism and hospitality sector are also emerging.
PIB College's Culinary Arts & Gastronomy program is structured with a curriculum that allows each graduate to pursue a career in the industry while also opening doors to entrepreneurship. One of the standout curricular components is Tourismpreneur, which provides entrepreneurial training in the tourism sector.
Interested in learning about pastry bakery and delving into the world of Culinary Arts & Gastronomy? You can apply through pmb.pib.ac.id. Every year, PIB College also offers scholarships for high-achieving prospective students.